Makhadzi  is going through some serious depression right now
Makhadzi  is going through some serious depression right now. Over 40 shows this december and Not paid a cent. Her manager adopted Makhadzi from her Streets hustle and She's using that against her. 7 years in Music and She has nothing to show for it.
The fight between Makhadzi and her manager started last year after she complain of not receiving a dime from her upon all the shows she had gone through out last year.
In this interview she was full of emotions descirbing how pathetic her current situation is at the moment.
"I have been protecting her for a long time, when i write somthing on facebook is always out of fustration, last time i complained on facabeook she tried to hide it by saying that my account was hacked which was not true but i let it slip just to protect my image and our relationship" She said in a revealing interview Amapiano.org had with her.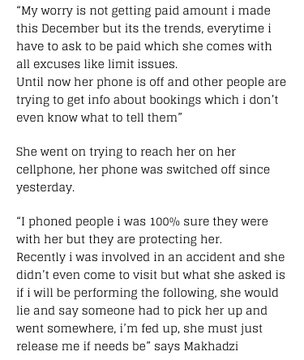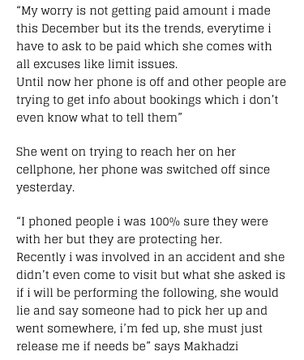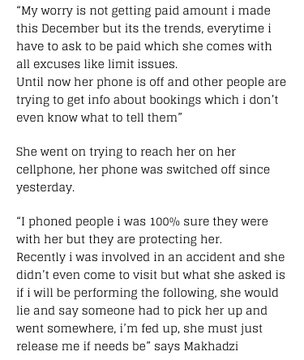 The music diva is the South African local  queen of Afro-wedding (Manyalo) songs. She is best known for her hit songs 'Tshanda Vhuya' and "Matorokisi" which was the crossover song on 7 South African Broadcasting Corporation (SABC) Radio Stations for 2019-2020, one of which being PhalaPhala FM. She is well known by singing in her native tongue Tshivenda.
She started to have a desire in singing, whereby one day she decided to play around in studio by recording herself singing, the recording manager got hold of her recording and offered her the opportunity to record in his studio. Her first album was in 2012, she has released 6 albums to date.
She was only 16 when she started. All she ever wanted was to pull the crowd and entertain them. She works extremely hard and deserve better. Somebody? Anybody? please let's help. Rescue her… Depression is upon her.
AMAPIANO MUSIC OF THE WEEK
AMAPIANO VIDEO OF THE WEEK
---
---