The first case of the #CoronaVirus has been confirmed in South Africa. the Department  of Health has confirmed the news saying that the man is a 38-year-old who had traveled to Italy with his wife and was part of a group of 10 people that arrived back in SA in on March 1.
The first case of #coronavirus in South Africa has been confirmed. A 38-year old man has been tested in KwaZulu-Natal. He recently travelled to Italy. He's been in self-isolation since Tuesday. #Upfront with Thulasizwe Simelane pic.twitter.com/BgIGNkSYmy

— eNCA (@eNCA) March 5, 2020
He was  tested in KwaZulu-Natal after he recently traveled to Italy. He's been in self-isolation since Tuesday. 
Already the National Assembly are debating on the urgent matter of national public importance which is  the Coronavirus and the readiness of South Africa to deal with the pandemic.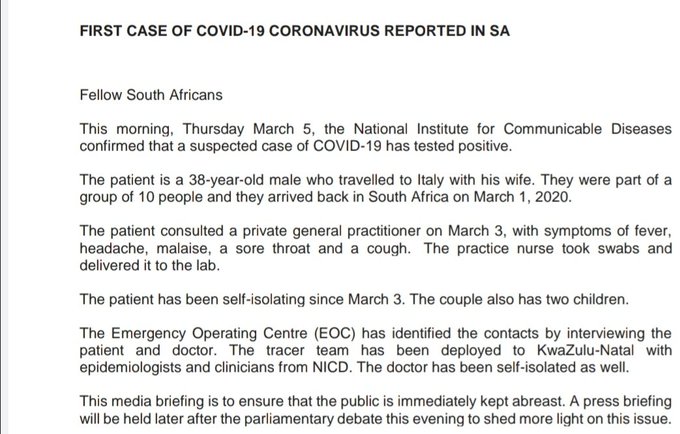 Africa is yet to suffer a major outbreak of the coronavirus Covid 19, but if it did strike, the consequences could be catastrophic. BBC correspondents in Nigeria, South Africa, Ethiopia and Kenya explain.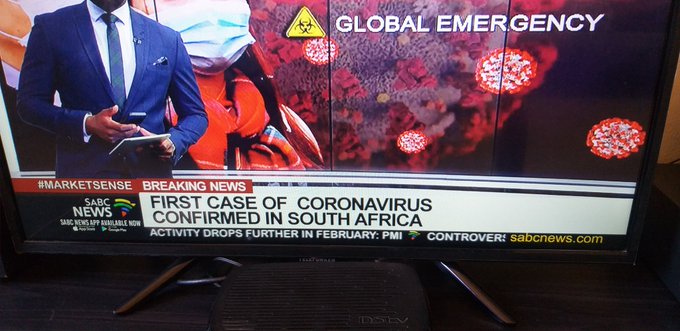 Download Also: