The Economic Freedom Fighters (EFF) a South African far-left Pan-Africanist political party  has reacted to the immediate resignation of Jabu Mabuza as the chairman of Eskom following the debacle in load-shedding mess.
The EFF Party on Friday 10 January 2020 in a letter welcomed his resignation and  called on Pravin Gordhan to resign too.
In a public statement submitted on Friday, the EFF party charged Pravin Gordhan to follow  suit.
In the letter submitted by Nompumelelo Simango who is the the EFF communication officer described Mabuza's resignation at the power utility as  long overdue and refereed him as a complete incompetent and absolute ignorant person who does not know anything about Eskom management in general.
According to the letter, The EFF party called on the government to force Pravin Gordhan to follow  suit and as well resign, describing him as the center of confusion who contributed largely to sudden paralysis and failure of Eskom.
They further said that under Pravin Gordhan's leadership nothing has ever been working in terms of state owned enterprise.
"No one in the last 12 months in the cabinet has been as complete a failure as Gordhan has been, he also demonstrate empty arrogance putting state assets in a dire situation," said EFF
Communication spokesperson.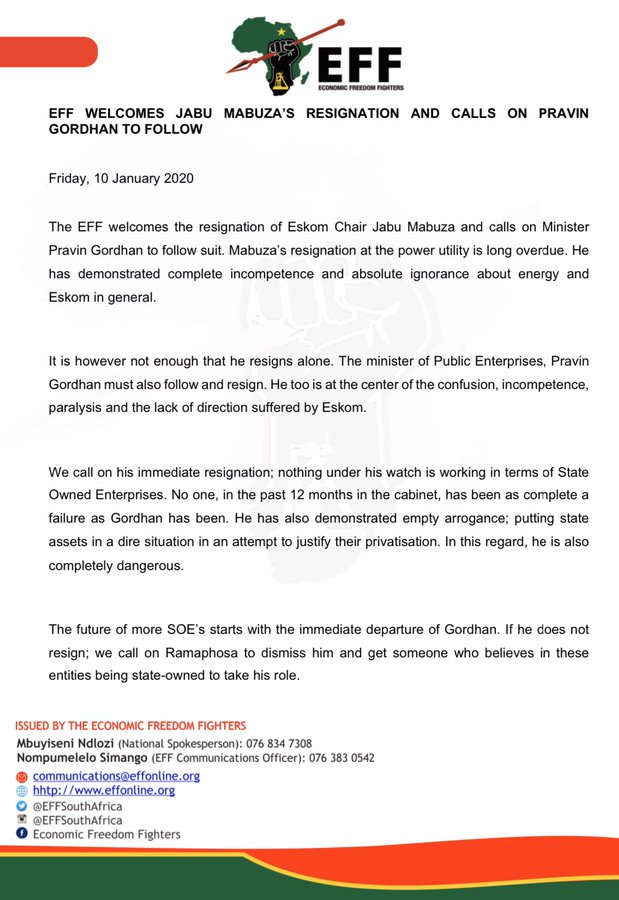 "Public Enterprises Minister Pravin Gordhan should be investigated following remarks by Deputy President David Mabuza that he, along with the Eskom board, misled President Cyril Ramaphosa about the power utility's load shedding debacle,"
"We are very concerned about the state of SOE's (state owned enterprises) in the country, not only because they have become a pit for our economy but because they have become the ground to settle political scores. We would like to register that we don't believe that the Eskom war room is a solution to Eskom's technical and governance challenges. We call for an investigation and divisive action to be taken against those who have lied to the president and the country," the lobby group said
This call was made by the legal think tank and lobby group Insika Economic Movement, who have called on government to probe the matter further.
Download Also: