Rita Dee Determine to frustrate Makhadzi
Rita dee is not going to kill Makhadzi as the tweep and trends of how she has put the upcoming music artist Makhadzi who had attended like over 40 shows this last December and not paid a cent.
Her manager, Rita Dee  adopted Makhadzi from her Streets hustle and She's using that against her. 7 years in Music and She has nothing to show for it.
Many people are not really happy over what transpired between the artist and her manager lately many are of the opinion that So Makhadzi is not supposed to demand her money because Rita Fought for her to be on radio stations and gigs..So Makhadzi must eat struggles and words?
Rita on the other hand had her own explanation over what happend she said her deal with  Makhadzi a contract deal of R4500 which excluded the travel fare and entertainment and that she should stop labeling her as cheat or bad person.
"Makhadzi can you please come straight and stop  misleading the fans you and i we have a contract why nisa ambi ngayo uri you signed that you'll get paid monthly amount of R4500 excluding the money we spend on traveling and entertainment.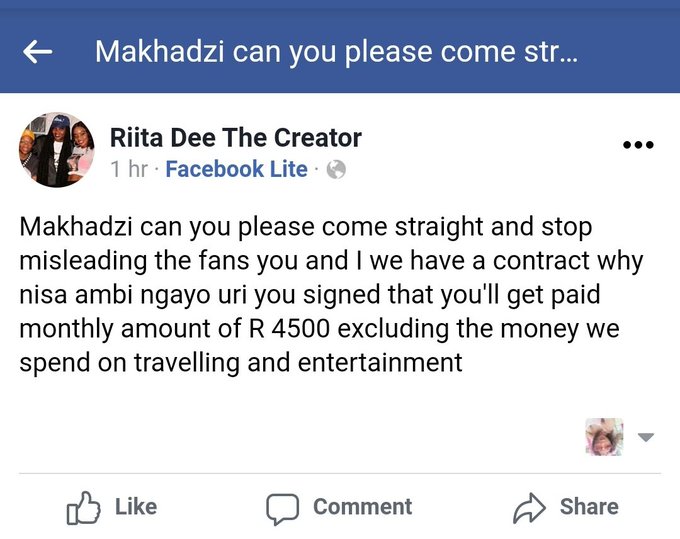 Read Tweeps On This Topic
Rams_fajuju_matumba
No wonder why she was glowing these days with that jojo tank body, Rita Dee must fall
See Pictures Of Rita Dee Before And Now 2020
Here is
Rita Dee Diva
the lady who is not paying
makhadzi muimbi
lets make her famous until she pay all the cash due to makhadzi, look at her before and after makhadzi's money.
AMAPIANO MUSIC OF THE WEEK
AMAPIANO VIDEO OF THE WEEK
---
---